The first stop of the Rip Curl GromSearch presented by Banzai Bowls came to an exciting close on the South Side of the Huntington Beach Pier. With beautiful sunshine all weekend, paired with a playful and building 2-3 foot swell, competitors had plenty of contestable surf to showcase their talents.  
With a beach lined with 168 competitors, featuring four different age divisions, the surfers paddled their hearts out to find opportunities the lineup had to offer. The lucky top four finishers in each age division qualified themselves for the RCGS National Final taking place at C-Street, Ventura, CA on November 17-18. The national champions of the Boys and Girls 16/U divisions will earn their spot an all-expenses paid trip to compete in the Rip Curl GromSearch International Final, to be held on "The Search," at an undisclosed location in the spring of 2019.
The turnout was great as the prestigious event brought phenomenal talent from all over the United States and beyond! With a ton of new faces earning podium finishes, as well as a handful of familiar GromSearch veterans.  
The 16/U boys kicked off the event with stacked heats and incredible surfing. Taro Watanabe gave it his all and took the division's number one spot. He was pumped to compete at GromSearch and told us, 
"GromSearch is one of the most prestigious contest for groms and I want to be a part of it every year. The amount of talent in this contest always keeps it fun. I also have never won a GromSearch national title and I really want to so that motivates me to come back every year." 
He continued to explain his strategy, "I just tried my best in the small waves we had on offer. I just tried to get two good waves every heat and surf them the best I could. I felt really confident because I surf there a lot and feel a connection with HB." 
As our 16/U champion had mentioned, there was quality talent in the water. Sage Tutterow wasn't far behind finishing 2nd, former GS International champion Kade Matson finished 3rd, and newcomer to the podium Sage Guinaldo in 4th. 
The Girl's 16/U division made the most of the waves on offer and whispers around the event mentioned the girls having some of the highest scoring and most entertaining heats. Young 12-year-old phenom Caitlin Simmers, stole the show and took first place in her first ever GromSearch event. Runner-up was Luana Silva who also was awarded the Banzai Bowl's Maneuver of the Event for a massive frontside hack laid down in the semi-final, 3rd place went to Rubiana Brownell, and rounding out the final in 4th was Ryann Daly.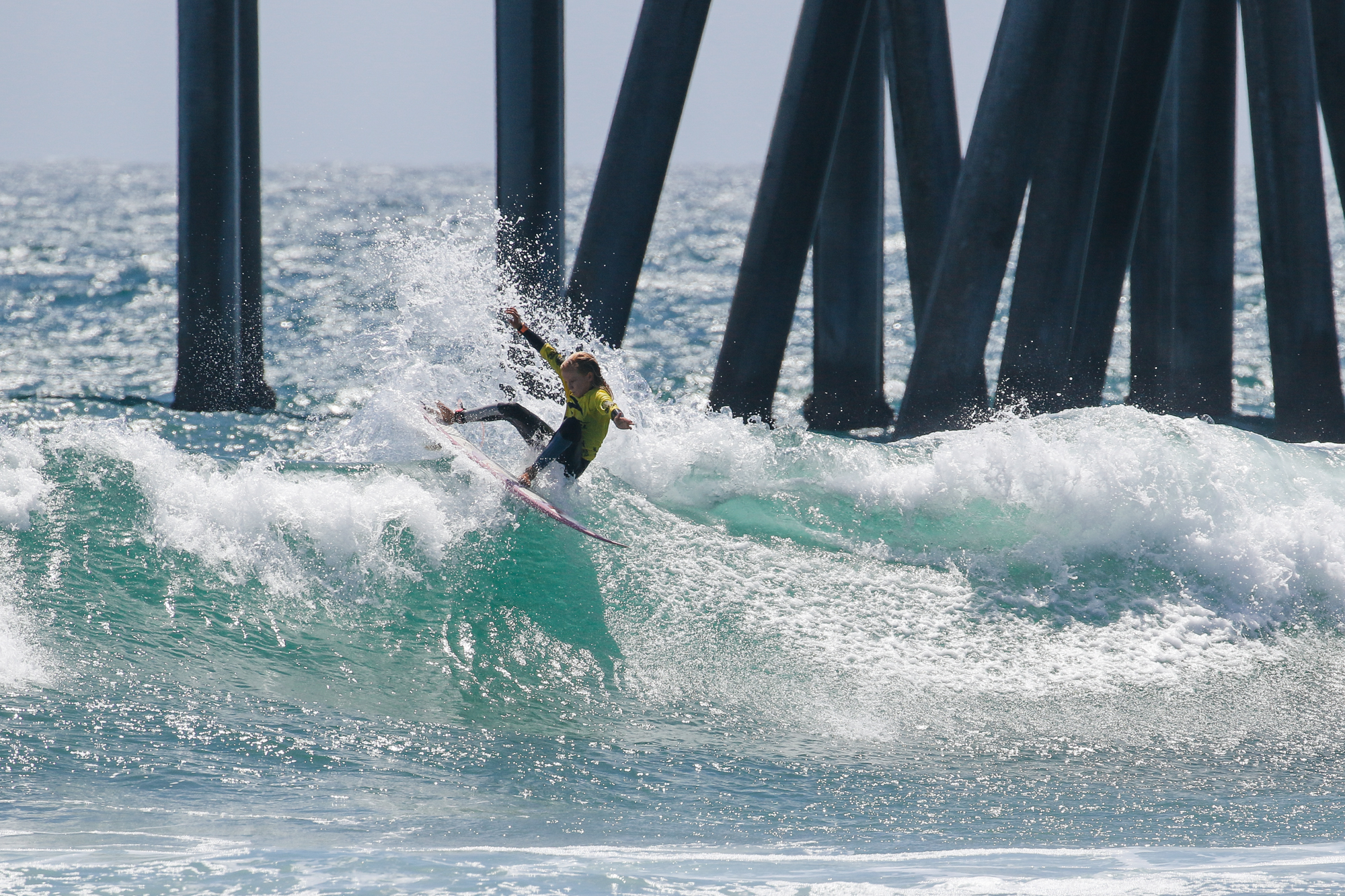 In the Boys 14/U division it was Luke Swanson, hailing form the North Shore, Oahu, who took the win. The event's longest traveler, Panamanian, Isauro 'Izzy' Elizondo finished in 2nd place, while Nico Coli placed 3rd and 4th went to Jett Schilling.  
It was fireworks for the Boys 12/U final as the youngsters went blow for blow! Lucas Owston took top honors and walked away with 1st place and $250. Defending champion Dane Matson fell one place short in 2nd, Shion Crawford finished 3rd and after four years of battling Maikai Burdine had his breakthrough to finally make the podium in 4th. 
Fiery Kauian competitor, Sage Tutterow, came out swinging as he totaled 17.40 in his 2nd round heat, which lead him to winning the …LOST Surfboards High Heat Total, and a custom shaped Matt 'Mayhem' Biolas surfboard. Congrats Sage! \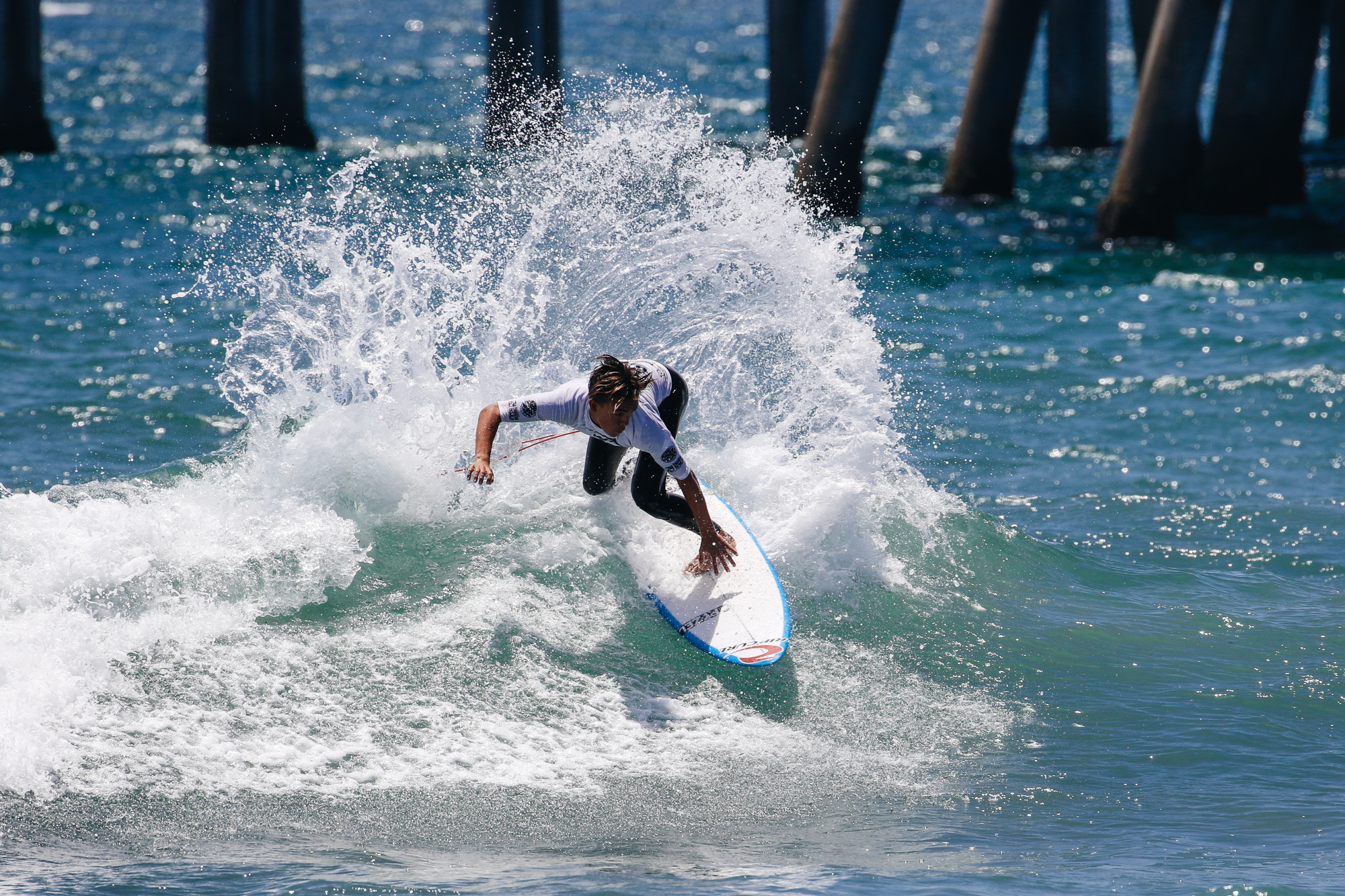 Rip Curl would like to thank its 2018 event sponsors, Banzai Bowls, Flexfit, POSCA, RXBar, Hydro Flask, FCS, Surface, …LOST Surfboards, Oakley, Surfline, and Wahoo's Fish Tacos. 
Be sure to head to Surfline.com to check out post event coverage. You can also be a part of the action by voting for the #SurflineMoment best photo on Surfline's IG story. 
We hope to see you at our next GromSearch event July 14th-15th at Kewalos, Oahu. For full event coverage, video highlights, photos, and entries head to www.ripcurl.com/gromsearch.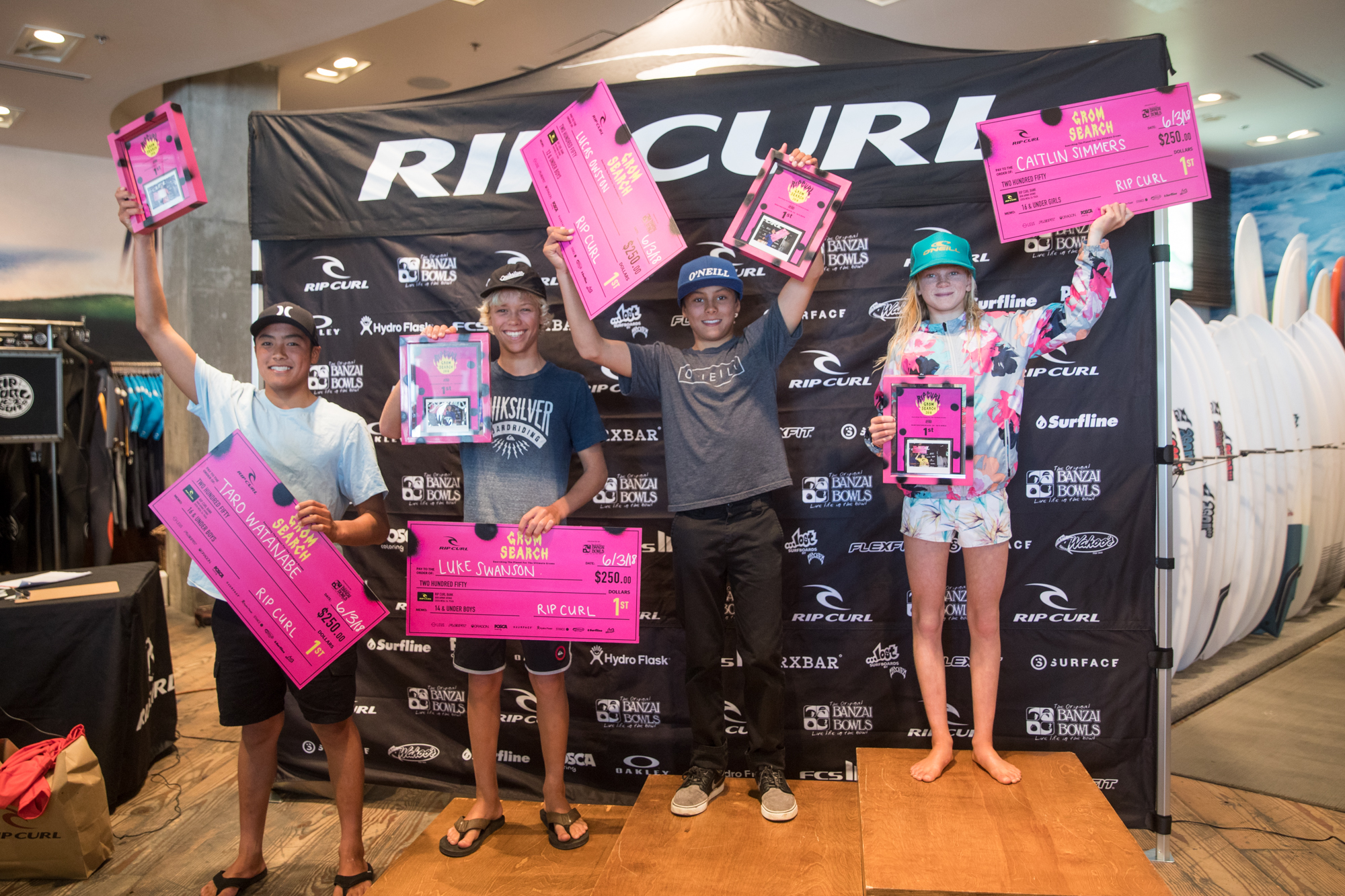 Grom Search Winners – Photo by Steve Mo
OFFICIAL RESULTS FROM STOP #1 HB PIER – 2018 RIP CURL GROMSEARCH PRESENTED BY BANZAI BOWLS 
Boys 16/Under 
1. Taro Watanabe – Malibu, CA ($250) 
2. Sage Tutterow 
3. Kade Matson 
4. Sage Guinaldo 
Girls 16/Under 
1. Caitlin Simmers – Oceanside, CA ($250) 
2. Luana Silva
3. Rubiana Brownell 
4. Ryann Daly 
Boys 14/Under 
1. Luke Swanson – North Shore, Oahu ($250) 
2. Isauro Elizondo 
3. Nicholas Coli 
4. Jett Schilling 
Boys 12/Under 
1. Lucas Owston – Oceanside, CA ($250) 
2. Dane Matson 
3. Shion Crawford 
4. MaiKai Burdine 
Banzai Bowls Maneuver of the Event: Luana Silva – ($300) 
…LOST Surfboards High Heat Total: Sage Tutterow – 17.40 points
About the GromSearch:
Since Rip Curl developed the concept for the GromSearch events in 1999, the series has spread throughout the surfing world and now culminates with an International final held at a different location each year. The worldwide series is held for male and female surfers aged 16 years and under, commonly referred to as "groms", with the aim of the GromSearch is to nurture and recruit the next generation of surfers at a grassroots level.
 
Former GromSearch champions include current WSL World Tour stars; Gabriel Medina, Owen Wright, Jordy Smith, Matt Wilkinson, Nat Young, Kolohe Andino, Tyler Wright, Stephanie Gilmore and Sally Fitzgibbons.